Pheasant Hunting in Wyoming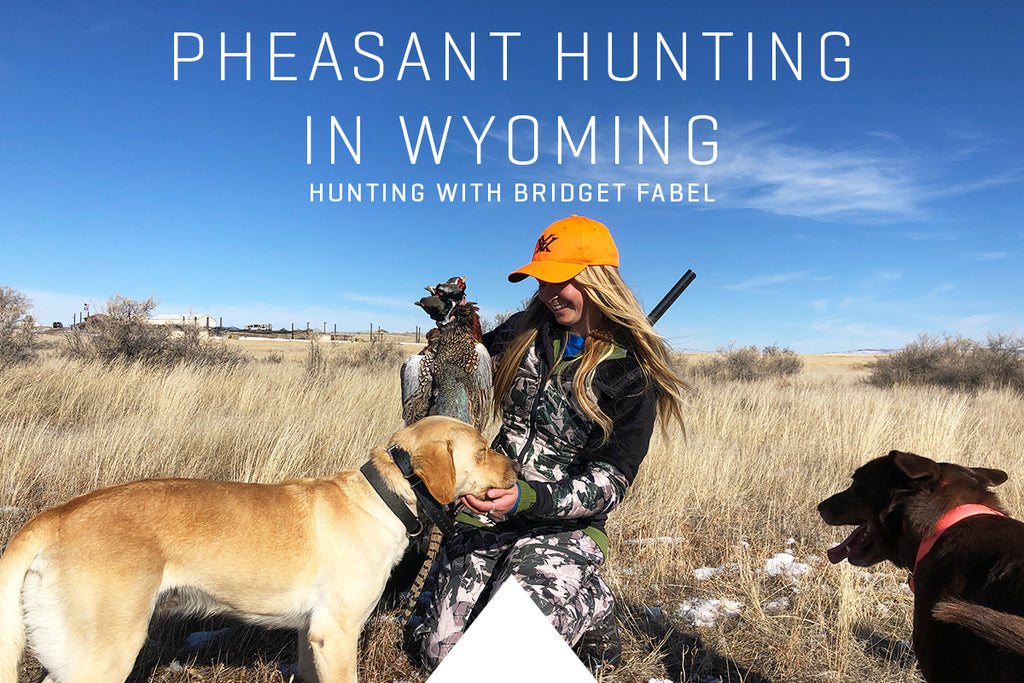 This November during my thanksgiving break from college, I made the drive to Casper, Wyoming from Utah to hunt with my friend Lisa.  I love bird hunting, but I am fairly inexperienced with it. I've shot pheasants, drowse, ducks, and doves before in Utah.. but they all were harvested because "I got lucky." By this, I mean that I don't have a dog, and certain types of birds can be really challenging to shoot without a dog. This was my first time, as well as Lisa's, hunting with labs for pheasants. 
We started out in some tall grass, walking in a straight line in a row. I was on the left, the guide in the middle, and Lisa on the right. In front of us ran three beautiful Labradors named Sis, Stormy, and Morgan. I was excited that we had an all-girl lab pack to pair with us lady hunters! The dogs ran back and forth sniffing for pheasants. When a dog was on the scent of a pheasant, she started acting funny and giving time to a particular area. Before you knew it, that bird would fly straight up into the sky and you had a split second to shoot. I was impressed with how fast everything went down. Between the bird flushing and getting a closer shot you had about 5 seconds or less to keep it together!
At first both Lisa and I missed some birds. After a second or two, the pheasants were really far away in the sky. After all, they were fighting for their lives and you can't blame them! We started to get in the action after those first couple of misses.  Lisa and I both made good shots on our first birds of the day, and both were roosters. The black lab, Sis, retrieved the birds each time. You could see it in her eyes how happy she was for our success. 
After walking through many patches of tall grass, we hunted the sage brush and killed a couple more birds. The sage brush was fun and action-packed. You couldn't see the dogs as easily so it was a huge surprise when a bird was flushed!  After getting our birds taken care of, we headed back to Lisa's house for dinner. Lisa's husband, Brad prepared an amazing meal using our freshly harvested pheasants. I highly recommend going on a pheasant hunt with your friends. The action is great, it's so fun, and it's very enjoyable and rewarding! Thanks for reading and happy hunting.  Bridget Fabel
 Bridget wore the
Achieve Hiking Pant and Believe Hybrid Hoodie
on her hunt.