Shed Hunting during Quarantine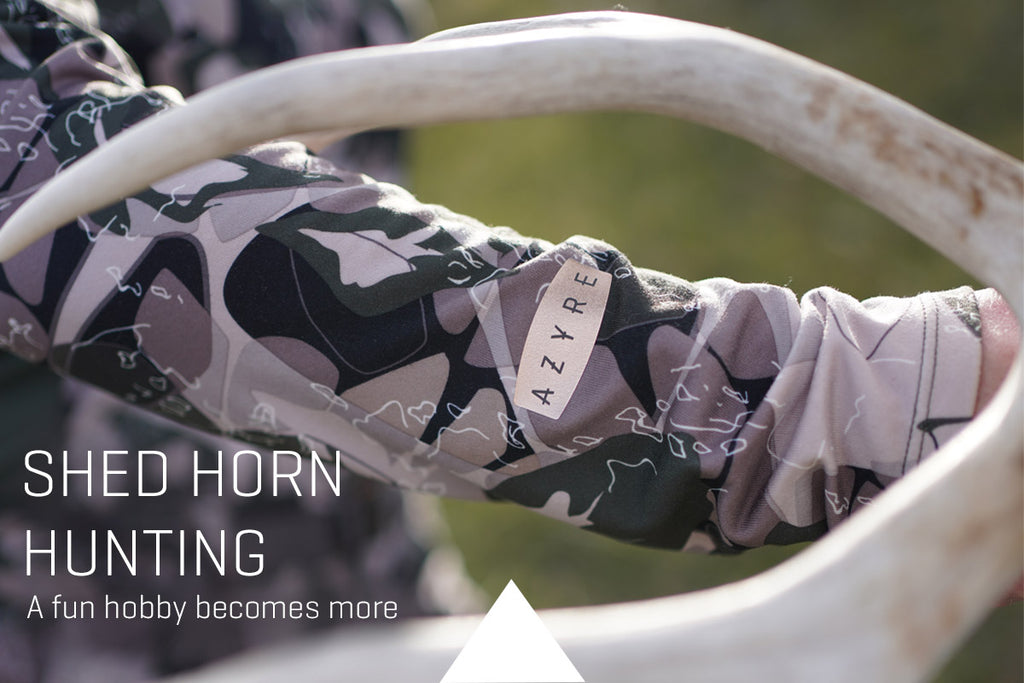 I love shed horn hunting.  It is always a fun time to get out, by myself, or with loved ones.  Hiking and smelling the fresh air makes my body feel great.  Plus, shed horn hunting is like an Easter egg hunt.  I cannot wait to find a shed, any shed.   
Shed horn hunting is the perfect thing to do while following social distancing rules.  You can do it alone or with others, out in an open area.  Once the extreme stay-at-home restrictions were eased, I was excited to get out again.  Usually, we just go out for a hike to see what we find, but this time I planned a little more since I had the extra time.  
 

During the isolation caused by Covid-19, I had extra time to think.  The words that guide me in business kept coming into my mind:  Vision, Believe, Achieve, Conquer… and also Appreciate.  My life had become so busy that I haven't stopped to appreciate all the simple pleasures in my life- like shed hunting! This break from normal life, while difficult, has also helped me appreciate the gifts in my life.   

 

When I started planning our first trip out, those guiding words came back to me.  To Achieve the goal to find sheds, I needed to prepare: I planned to wear my Vision Baselayers, Achieve Grid fleece, Achieve Hiking Pants, Believe Concealed Cari Vest, and topped it off with the Believe Hybrid Hoodie. I filled my Mystery Ranch women's pack with my Conquer Waterproof Jacket in case it rained and the Believe Packable Down jacket for extra warmth.  I also added water bottles and snacks for me and my dogs, Sadie and Heidi.  Finally, extra bungee cords went in, for carrying all those extra sheds I was going to find.  Vision. Don't forget binoculars for spotting sheds in the distance!  
Then, I started thinking about areas to go look for the sheds.  That's when Believe came in- trusting that we would choose the right area for a good find. The last piece of my plan was timing:  making sure we would Conquer by starting in the morning early both to make it a whole day adventure and to cover as much land as I could.  The night before was a feeling of total anticipation.  It was an eagerness that I never had before going shed horn hunting.  Part of it was just that I've been cooped up inside for so long but the other piece is that I had time to reflect and appreciate those small moments of joy.  It made a simple shed hunt, seem like an incredible sheep hunt in the backcountry. It was much more emotional.
The morning came everything was loaded in the pickup and off we drove to public land around forty minutes away.  It was really windy and cool with cloud cover when we arrived.  I thought it was going to rain so I was really glad that I had my rain jacket in my backpack.  Sadie and Heidi were more excited than usual.  They were ready to get out after being cooped up as well!
After parking and loading up my backpack, we were off hiking.  It was an amazing feeling to just get out into the wide-open spaces.  At this point, I didn't care if I found a shed horn or not.  It was great to be alive and feeling the fresh air on my face while hiking with my loved ones.  After about an hour and a half of hiking, not one shed was to be found.  We did see lots of the little sprouts of green grass coming up;  a great sign that summer is coming.  Some sage grouse were running around and tempted Heidi and Sadie to chase after them.  I could hear meadowlarks singing near me with the sound of Sand Cranes far in the distance.  I could not see them but I was intently looking for them.  
I started telling Sadie and Heidi, "go get 'em!"  Since the dogs were puppies, we worked to train them to help us locate sheds.  Pretty soon, Heidi did her point action. I looked over in the direction she was pointing and, with help from a little glimmer of sunlight shining on it, I saw a shed.  I was so excited hiking over to it.  It was brown and little but I felt like I just found the biggest shed ever!  Overwhelmed with excitement, all I could think about was to find another one.  I hiked another mile up and down draws, and around a corner.  On the West side of a steep hill, I looked up about 150 yards and I saw a white shed!  I knew it was big and started to hiked as fast as I could straight up, while still looking around to find the match.  I knew that as big as it was, the match could not be far.  I told Sadie to "go get 'em" again.   Trying to keep up with her, I trotted for several minutes, then there it was: the match.  I instantly yelled, "Yahoo!"  Over the next hour and half, I hiked the sidehill ridge and picked up five more.  The girls and I stopped to rest with a snack and checked out all the sheds we found.  We even remembered to take a quick picture.  
After putting all the sheds in my backpack, I decided to go up and over the hill and hike the top all the way back down to the pickup.  I didn't expect to find many sheds but I ended up with twelve more by the time I got back to the pickup.  I couldn't believe how many I found.  What a great day!
Have you been out shed horn hunting?   What else are you finding to appreciate more deeply during this time?