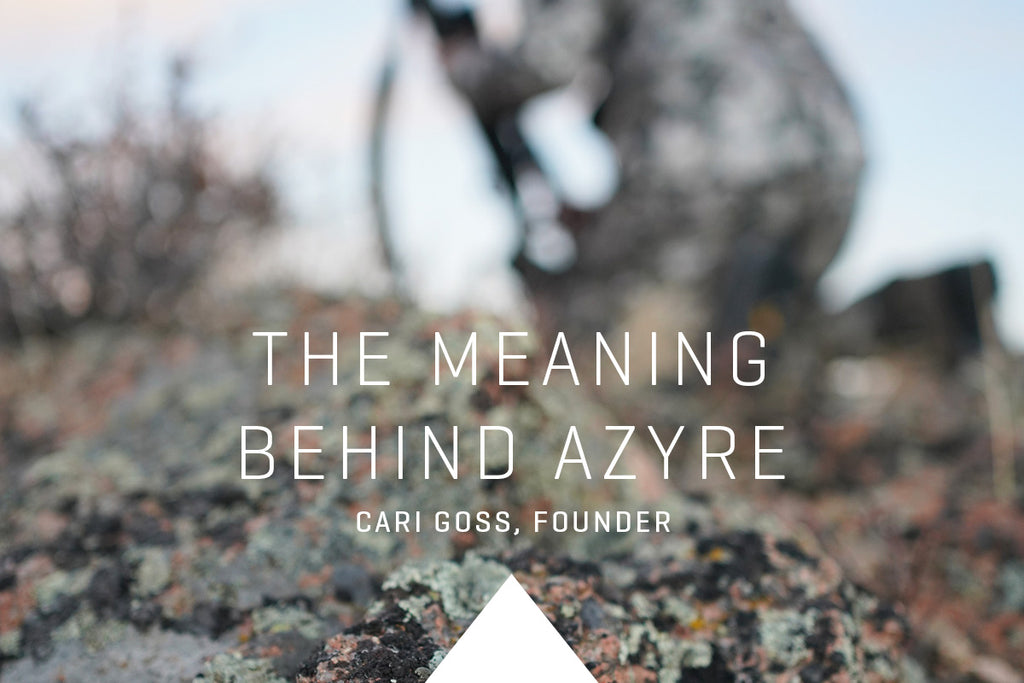 Azyre's Mission
Our vision is to create high performance, yet stylish products and a brand that encourages women to achieve their outdoor pursuits.  We believe that we will conquer our goals through faith, positivity, and a focus on inspiring others.
The meaning behind this mission is in our product names.  
One day, we were going over ideas for the names of the apparel.  Mountain names, geometric figures, and words that represented extreme cold were tossed around.   As cool as some of those sounded, none were very meaningful.   One night when I couldn't sleep, I started writing and came up with the idea to name the apparel with the reason and meaning of why I built Azyre.
We refined my many scribbles down to 5 keywords: 

Vision, Believe, Achieve, Conquer, and Inspire. 
Vision
Since I was young, I have always set goals for everything I do.  People who know me, know that I have a notebook for each project with the goal written out on the front page (and about 100 inspirational quotes on post-its stuck inside).   My vision for Azyre is to create a line that incorporates the input of like-minded women who have a passion for the outdoors.  Together, we will solve our desire for style, fit and function (especially warmth!).  More than just that, I want to build a company that truly understands and respects each person we interact with.  
Believe
My faith gives me a positive outlook on life.  I believe that if there is a will there will always be a way, and I hold fast to that belief when doubt, fear, and failure enter into my thoughts.  I pray to God for the strength and the right people to create a team to make it happen.  My faith gave me the courage and strength to pursue the idea of making functional women hunting apparel.
Achieve
Throughout the process of building Azyre, there were times that were very difficult and overwhelming.  Having an idea is easy, following through when things are frustrating is hard.   In those moments I would sit down and say "All things are possible through Christ who strengthens me".  Immediately, I would get a sense of peace and then, somehow, another incredible person that I didn't know I needed would reach out to help solve the issue.   Every little hurdle along the way was one more step towards achieving my vision of Azyre.   Always driving forward, always striving to achieve. 
Conquer
Finally, the dream of Azyre is coming alive and we're now able to share it with other women.  This is the best part.  We conquered our first goal- to create high performance, fashionable products for women.   It took faith, and vision, and an amazing dream team of people.   Now we want to help you conquer your goals by connecting you to your own dream team of others who love being out in the outdoors.  
Inspire
My goal is to inspire women both in the outdoor elements and in life.  By building a brand that is in line with my values, I support and encourage others to achieve their potential. 
Warm Regards,
Cari & the Azyre Team