Colorado Archery Elk Hunt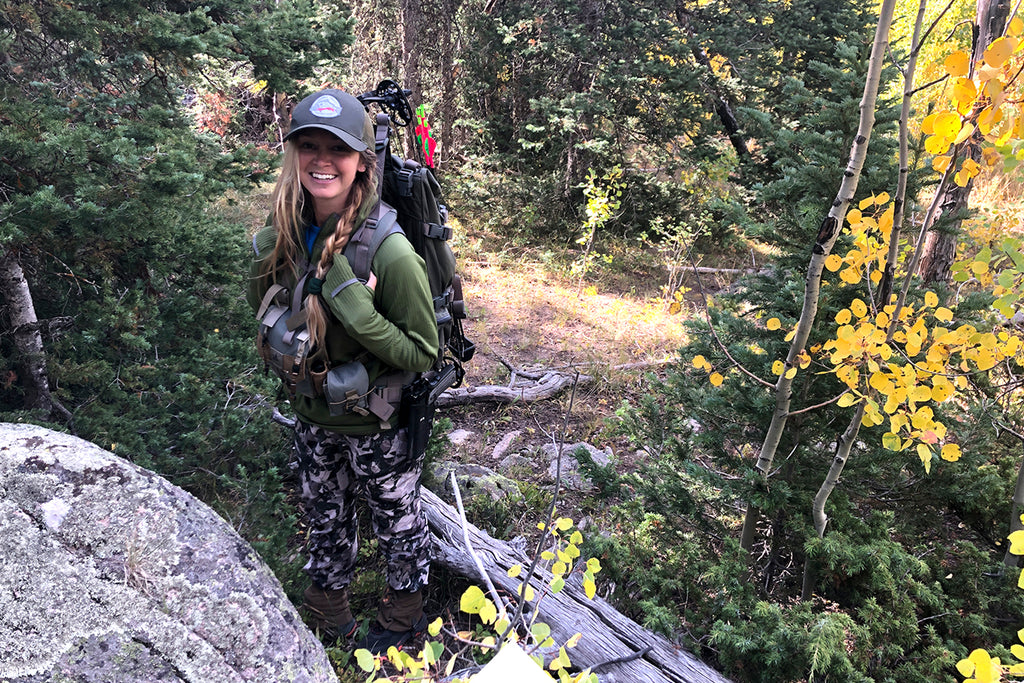 This September, my boyfriend, Eric, and I set out for an over-the-counter (OTC) archery elk hunt in Colorado. Colorado has easy-to-obtain OTC tags that are valid for a variety of units across the state. Despite the tough public land hunting offered by OTC tags and the potential of many hunters being in the area, we were excited for the challenge. We left Utah with only five days to fill our tags. 
Eric and I first set up camp in a unit that had rugged and steep terrain, with lots of public land access. Camp was at about 9,500 feet and the mornings and evenings were below freezing! Our goal for the first day of the hunt was just to cover ground. We drove around and hiked about 9 miles looking for elk and listening for bugles. Finally, just about at last light, we found some elk! We spotted them through our scope a couple miles away. There were about 12 elk in total.  Two of these elk were bulls, a solid 5 point and 6 point. With darkness approaching fast we decided to come back to that spot and see if we could find them in the morning to make a move.
The next day, we could not relocate the elk. They were near private land when we spotted them and they simply could have gone anywhere! That day we hiked another 12 miles but turned up no elk or bugles. Eric and I both agreed that there was little to no elk sign in the area and that it was time to relocate. At least on our way to a new glassing knob during the day, I found a little elk shed. That made me happy!    
I have some lovely lady-hunter friends that live in the area, so I reached out to them for intel. They gave Eric and I the scoop on a nearby unit and we decided to move. We made it to the new camp spot with time to go out for an evening hunt. We hiked 6 miles that evening and saw or heard no elk. The aspens were beautiful in this area and bright gold. We had hopes for the morning.  
The next day, day 3, we found a lot of elk signs but even after 10 miles of hiking we did not see or hear any elk. We found some wallows and lots of rubs but it was clear that there was a lot of country for these elk to roam on. For archery hunting, we need to be hearing the elk and in the "zone" where they are rutting. This spot had potential with all the sign, but the rut wasn't happening, and we decided to move again.
For the 4th and 5th days we moved to a spot way lower in elevation and far away from our original locations. This spot was steep, desert country with oak brush and cedar trees. Eric's friend gave us information that the elk were rutting like crazy in this unit. We left early, before sunrise and started our initial hike in, a steady uphill push for over 3 miles. As the sun was about to come up, we stopped to put on more layers, it was cold! That's when we heard the first bugle of the whole trip. The rut was on.. so exciting!! 
The sun was coming up and we started pursuing the bugles we were hearing. At first light we set up to call in a bull that we heard to our left. I was the shooter hiding behind a bush at the bottom of a canyon. Eric was about 20 yards behind me bugling and cow calling the elk in. I had pre-ranged all the rocks and bushes in the area so that I could be ready to shoot if a big, old bull stepped in. After about 15 minutes the adrenaline kicked in as I heard an elk moving through the oak brush. He popped out and walked broadside 20 yards ahead of me but, unfortunately, he was a spike. For this OTC tag you can only shoot branched, antlered bulls with 4 points or more. I watched the spike walk by wishing I could have shot him… best meat ever!  
As soon as he passed, we heard a big elk bugle above us. We set up and tried to call him in. I saw him at about 100 yards looking our way.  It was a beautiful 5 point. I was ready for him to come in, but his cows were moving down the mountain and he wouldn't commit past 100 yards. That morning we chased bugles constantly and always had action. We spent the entire day on the mountain and put on 16 miles by the time we reached camp. We were exhausted and the 3-hour hike out in the dark, through the steep and thick oak brush was brutal! I went right to bed when we returned to camp. 
Our last day was just as eventful, but still no shot opportunities. While pursuing a bugle, I found an awesome deer shed lying tines up near some oak brush. I grabbed it really quick as we chased the elk. Unfortunately, we never were able to close the gap and needed to leave that afternoon to head back to Utah. The last 2 days of the hunt were the most action packed and I'm confident that with more time in that area, we could have filled our tags. I was not bothered by eating tag soup because Eric and I had so much fun in the mountains for 5 days straight. Tagging out on OTC hunts on public land AND with a bow is about as tough as hunting gets. Our time was limited this year, but I look forward to hunting more next year. I wore my Azyre Achieve Pants, Vision Baselayer shirt, and Believe Down Jacket every day of the hunt. I was impressed with the durability of the pants through the rugged downfall timber, thick oak brush, and pricker bushes. Thanks for reading and happy hunting!
-Bridget Fabel