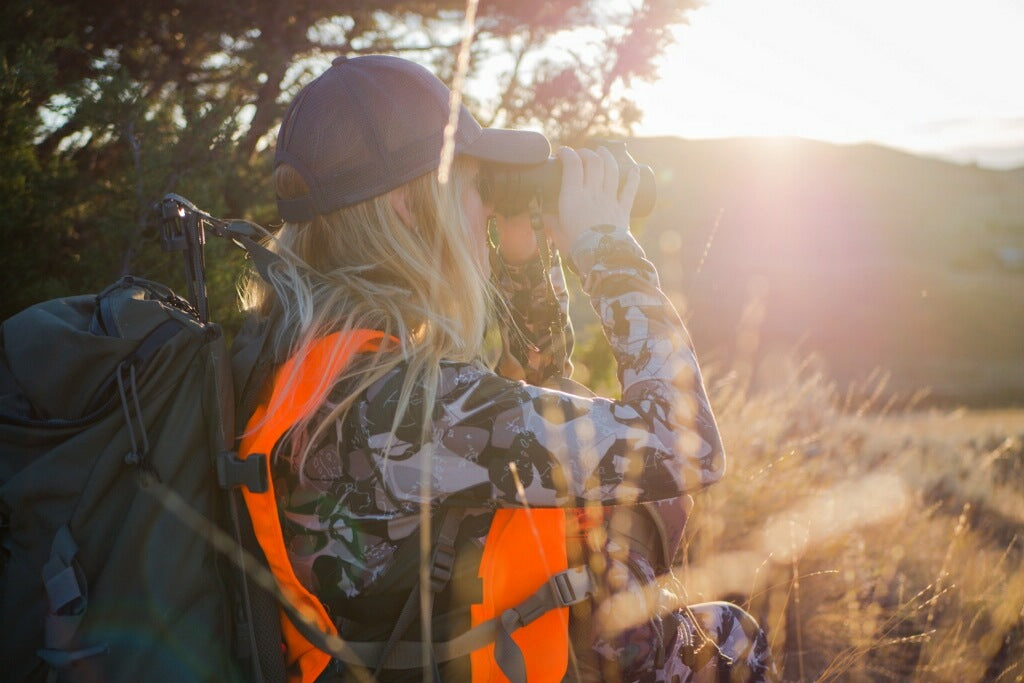 My husband Leo and I have enjoyed countless fall hunts on our ranch in Wyoming together. For this hunt, we had the goal of harvesting an older age class trophy mule deer. The past two Wyoming winters have been severe, which impacted the deer in our area. On our first day, we saw many younger age class bucks but not the older trophy bucks we were hoping for. Regardless, I still believed there were some trophy class deer left on our ranch.
The morning and evening hunts in the rugged Wyoming terrain can be warm one moment and cold the next, Azyre's layering system is perfect for any condition the weather produces.
An early start on a Saturday afternoon, let us hike into a remote area that we had not looked at for some time. We arrived just as the deer began to feed for the evening. Immediately we saw multiple bucks, one in particular that was of trophy class. We stalked in for a closer look and confirmed he was as big enough. However, we felt he was young and would probably be bigger in the coming years so we backed off and left him be. We climbed out of the basin and went to look into the next drainage.
Eventually we spotted two bucks together off in the distance. We moved in for a closer look and they were both older age class bucks of the trophy caliber we were looking for.
We stalked into shooting range and I set up for the shot. We focused our attention on the larger of the two bucks and waited for him to turn and present a shot opportunity. The old buck knew something was wrong but had not seen us and was standing in a position with no opportunity for a shot. After ten minutes he finally turned and I had my chance. With one shot the buck went down! My Wyoming Mule deer hunt had reached a whole new level of excitement. Walking up to this beautiful deer is a memory I will always cherish. More so because I was able to share great memories with my friends and family in the outdoors.