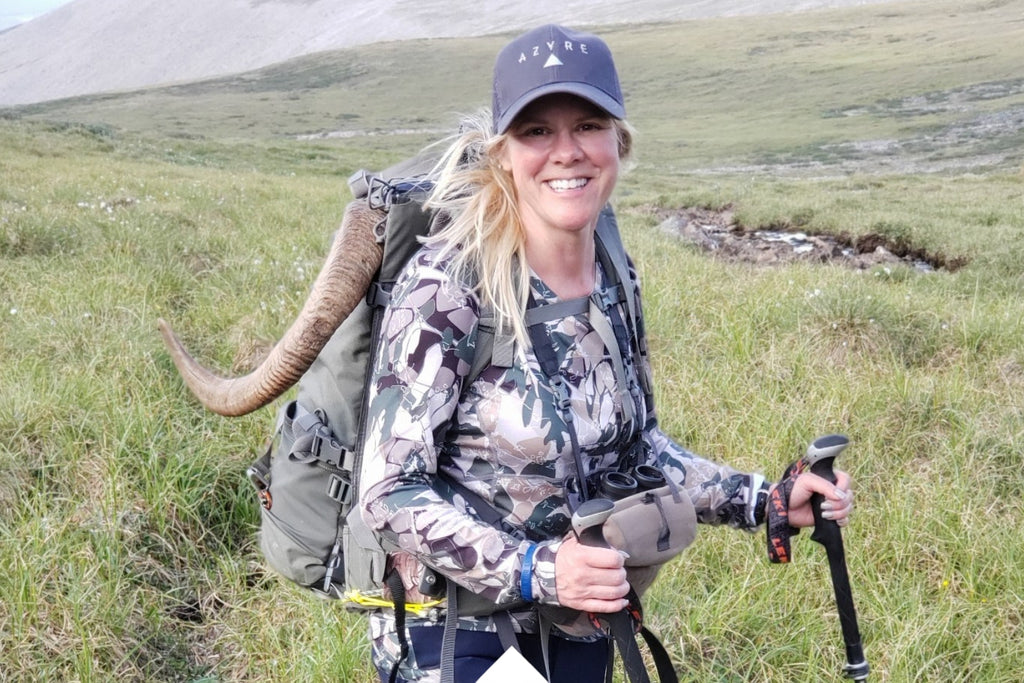 Things had to change.
As a long-time hunter and outdoor enthusiast, I've been discouraged by the lack of options for hunting apparel designed for women. For years, I've struggled to find clothing that fit right, or that featured the technical components needed to keep me warm and comfortable while in the field. 
After researching countless products from many brands and talking to women who share my passion for hunting, I recognized that I was not alone. Everyone I talked to has stories about fighting ill-fitting clothing, suffering during the cold due to poor gear, and having limited choices stylistically. I realized this had to change and I could be the one to do it.  I've never been afraid of a challenge and I wanted stuff that worked for me, so I decided to make it myself. 
I've combined my years of business experience and hunting knowledge to design products meant for every adventurous woman. I've spent years meticulously obsessing over every detail of every product, and focused on how to create a brand that values relationships and personal connections. 
I'm pre-launching Azyre in the fall and shipping in 2020. I'm confident we can better serve the women in the hunting industry than others have done in the past. The Azyre brand positively represents, recognizes, and empowers amazing women with a shared passion for hunting, fishing, or being in the outdoors. 
What's in a name?
I originally wanted to name this brand ARTEMIS, the goddess of the hunt, goddess of the wilderness, and goddess of the animals. It just fit. But when I started going through the legal process of filing the name, ARTEMIS was already used. I went back to the drawing board.
I wanted to cover everything from A to Z in my brand and I had a friend in grade school named Azurene (I always loved her name), so I started scribbling ideas on a notepad. After a while I started googling variations of her name when I landed on the definition of Azir: powerful and complete. It was perfect. 
But pronunciation has never been my thing, so my friend Gene helped me adjust the spelling to "Azyre". I loved the fact that the name rhymed with "desire". The name came to life with strength, positivity, and a strong look. I was hooked. 
Who Azyre Is For.
I've been an avid hunter for years. My passion for the sport has taken me to Alaska, Mexico, and everywhere in between. I've been blessed to complete my first Grand Slam (and yes, I'm working on doing it again) and I've hunted record mule deer, elk, and moose. 
I've put my gear through all types of conditions and I've built the Azyre gear to support me through the toughest conditions. I'm proud to say that the Azyre gear uses the best materials, features innovative design, and is built with a womans' fit in mind. Anywhere you want to go, Azyre can take you there. 
Azyre is a brand for passionate female hunters. The Azyre woman is proud of who she is and has a sense of self-worth that she carries with her everywhere she goes. She enjoys being with loved ones in the outdoors or venturing the wilderness on her own. She has a passion for wildlife, conservation, and nature. 
This brand wants to celebrate these amazing women. Azyre is a clothing line that empowers the female hunter with quality clothing that fits and offers the functionality not found in other brands. It is as unique as the women it was built for.
If you are a woman that celebrates authentic, real experiences in the outdoors and have been searching for proper attire, look no further: Azyre is the brand for you. We are building our community of women with confidence that every Azyre woman can enjoy her time outside. 
We are excited to launch this unique brand for female hunters. If you'd like to stay in the loop on how we are creating the clothing and our process as we approach the official launch, subscribe to our newsletter and we'll keep you posted.
- Cari