Reviewing the Concealed Cari Vest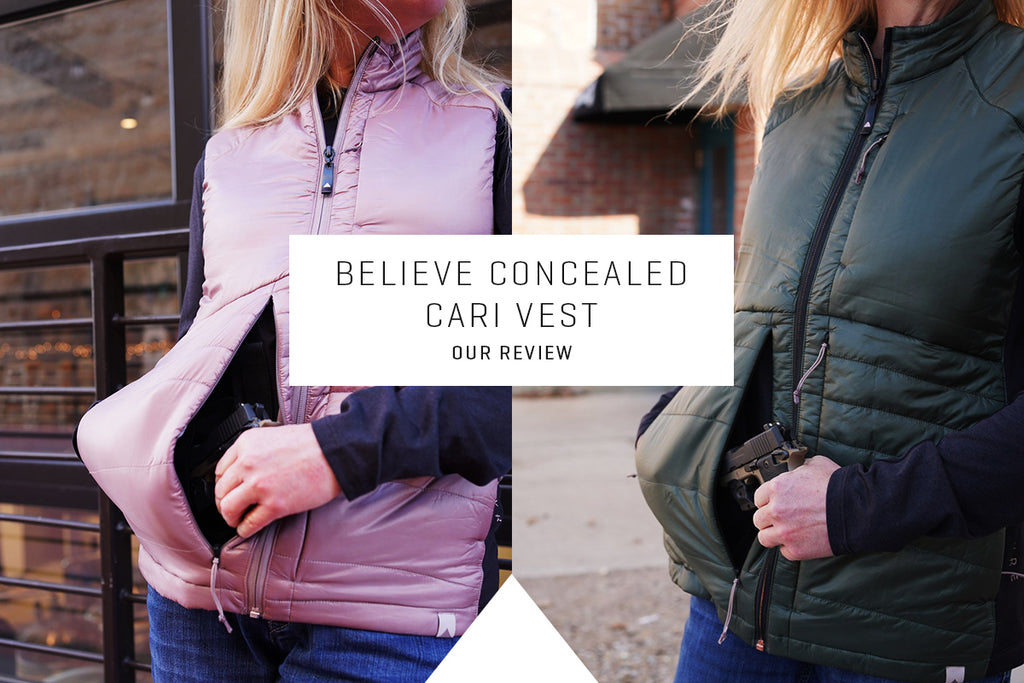 We just officially launched at the Sheep Show and had so many women interested in our new Concealed "Cari" Vest. It is such a great piece- looks great, yet has easy concealed carry access. Here's more detail about its design, function, style, and appeal through the eyes of two different Azyre field testers: 
Input from Azyre's Founder: Cari Goss
We designed our concealed carry vest because I didn't like any of the other ones on the market; they didn't have the right function.   The ones I have seen are always on the inside of the vest.  That's works only if you are walking around all the time with your vest opened.  If someone were to try to grab you, opening the front zipper than the inside carry pocket would take too long. I wanted to make one with access on the outside so whatever you want to carry is easily accessible.    Some women have licenses to carry their pistol and some women prefer pepper spray or tasers. The function of the concealed carry vest has to perform the most efficient way to get to your concealment option.  
To get started, I wrote down all the important ideas then met with three designers to start the technical design.  Once I got the sample, I tested it over and over, made revisions, and occasionally went back to the drawing board.  After multiple samples, we ended up the just-right function for the vest to perform.  
For the concealed carry pockets, we finally decided on using Velcro strips with repositionable holsters.   After multiple tries, we found that this lets you position your protection wherever provided the most comfortable fit for the concealment.  We created 2 holsters to work with this system; one to fit a taser or pepper spray and the other for your pistol.  The next test was to get the perfect material and make it look great so it could go anywhere she wanted to go.  
We chose a lightweight synthetic insulation and a super-soft yet water-resistant material.  I wanted it to look sharp, so we added in the stretch side panels to fit any woman. Finally, we made sure that the pockets were just right:  normal deep pockets with a zip chest pocket. At last, was the details for the colors and trims. Solids made the most sense to wear anywhere while adding a different color to the side panels made it sharp looking.   All that plus, the outside concealed carry options that work whether she is right or left-handed.  
Input from Azyre's Field Tester: Bridget Fabel 
Anyone like a good play on words? The Azyre Concealed Cari Vest is named after the founder of Azyre, Cari Goss. As a gun owner, she saw the need for a functional vest that could easily carry her firearm and conceal it on a daily basis. I've been testing and wearing the concealed Cari vest for over six months now and I am so pleased with every little element of it! I am a lefty and through the years I have found it very difficult to find women's concealed carry items that accommodate lefties. The first thing that I noticed is that the concealed compartment features velcro on both the right and left sides so that you can easily pick which side you want your firearm in. The stretchy gun holster accommodates guns ranging in size from micros to full-sized. The vest comes with a separate holster for spare magazines, pepper spray, a knife, or whatever you like to use to protect yourself. 
My favorite thing about the Concealed Cari Vest is how easy it layers with any items. You can wear it when it's cold out, hot out, you name it! Its design pairs easily under jackets, overshirts, or by itself. If you're looking for a more tactical look that goes with everything I recommend purchasing the vest in black. If you want a statement piece, Antler is the right color for you. Antler is a beautiful and subtle shade of pink that is unique and head-turning. Lastly, my favorite pick for hunting is the Lichen. Lichen is a beautiful shade of dark green that goes great with your Azyre camo, and your bow or gun!