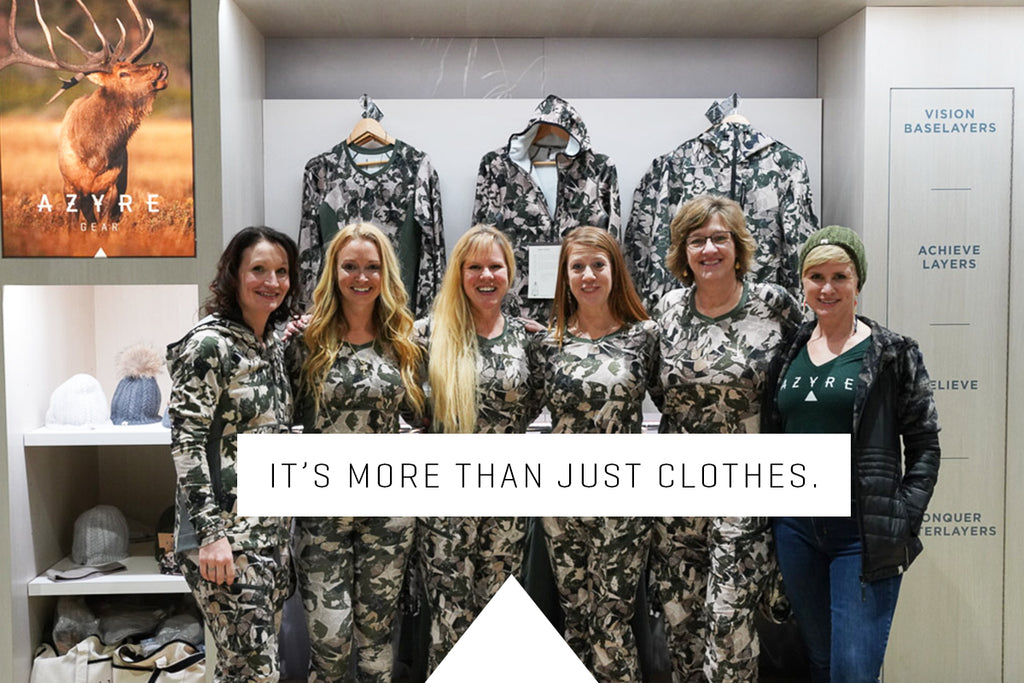 In the past I went to the Western Hunting & Conservation Expo show as an attendee. I spent my time walking around looking at all the cool mounts, apparel, guns, spotting scopes, & accessories. It was also a great opportunity to catch up with old friends and meet new ones.
This year was different. Being there as an exhibitor with our booth was both exhilarating and inspiring. Every morning my team met before the show started and prayed. As the days of the show went by there were new people joining in the morning prayers and they each became friends. 
It was amazing to hear the overwhelming responses like, "Finally hunting gear that fits. Awesome!" and "This is fantastic. I love the pattern". I have been building and wearing my apparel over the last three years with all the same thoughts.
I spent the days connecting with all sorts of wonderful women. We talked about the apparel but we also talked how we believe in God. We talked how we feel close to God in the outdoors whether it be hiking and/or hunting with our loved ones. The shared values created instant friendships and I exchanged countless phone numbers to keep in contact with my new friends. I did not expect the electrifying feeling I felt every day after the show.
The last morning, during our morning prayer circle, it finally hit me that building Azyre, is about way more than just apparel. It's about creating a deep connection with like-minded souls. It's about spending time with people I love. It's about deepening my faith in God and being able to share that with others. That feeling overwhelmed me and my tears of gratitude flowed.   
It takes an awesome team to make all the shows successful. I'm blessed to have my soulmate, my rock, my husband Leo beside me. I want to say a huge thank you to my best friends of over ten years who helped me with every show and my new friends who helped in some way each day to make the show logistics work. We also had non-stop help and support from my nephew, Trevor, and great friends, Jared and Zach. Thank you!